Stadiums
National Aquatics Centre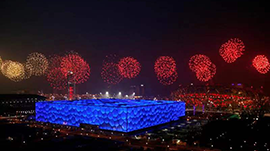 The National Aquatics Centre, known as "Water Cube" swimming venue from 2008, has become the "Ice Cube" with four Winter-Olympics-standard curling sheets through "water-ice conversion".
National Stadium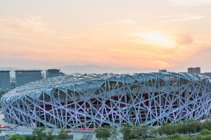 The National Stadium (the Bird's Nest), main venue for Beijing 2008 with a total area of 20.4 hectares and a building area of 258000 square meters, has a capacity of 91000 spectators.
Wukesong Sports Centre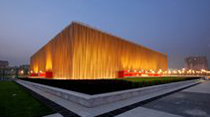 Wukesong Sports Centre, the first venue in China to run the two professional sports events at the same time, can realize the competition mode transformation from ice hockey to basketball.
Capital Indoor Stadium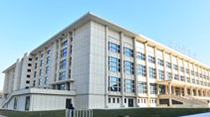 Built in 1968, the Capital Indoor Stadium is the first artificial indoor ice rink in China. In 2022, this stadium will be the venue for short track speed skating and figure skating.
National Speed Skating Oval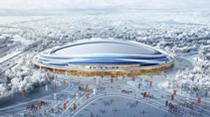 The National Speed Skating Oval, also known as the "ice ribbon", is the only new venue built for ice competition. It will hold the speed skating events and award 14 gold medals.
Big Air Shougang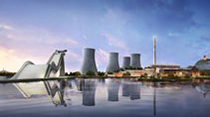 Big Air Shougang will undertake the big air events of snowboard and freestyle skiing. The design concept of the platform is derived from the traditional flying Apsaras in Dunhuang frescoes in China.
National Indoor Stadium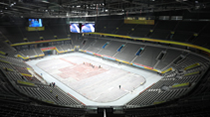 After the transformation, it will be the venue for the Men's Ice Hockey competitions as well as for some of the Women's, and for the Para Ice Hockey during 2022 Paralympics.
National Alpine Skiing Centre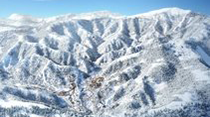 Alpine skiing is known as "the pearl on the crown of the Winter Olympic Games". The National Alpine Skiing Centre has seven courses with large slopes which are extremely difficult to build.
National Sliding Centre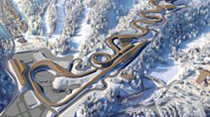 The National Sliding Centre is the competition venue for bobsleigh, skeleton and luge events in the Beijing Winter Olympics. The venue has 16 curves with different angles and slopes.
Genting Snow Park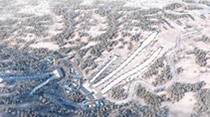 Genting Snow Park will be the venues for Aerials, Halfpipe, Moguls, Slopestyle, Cross and Parallel Giant Slalom of both snowboard and freestyle skiing.
National Biathlon Centre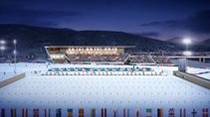 The National Biathlon Centre will be the venue for biathlon events of Beijing 2022 Olympics and Paralympics. It is arranged with firing range, skiing track, start & finish area, etc.
National Ski Jumping Centre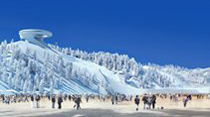 The architectural design of the ski jumps is resembling a Ruyi scepter, a Chinese talisman, which is why the facility is being called "Snow Ruyi". It will hold the ski jumping and Nordic combined events.
National Cross-Country Centre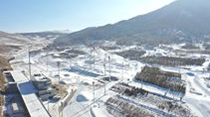 National Cross-Country Centre will hold the Cross-Country and Nordic Combined events of the 2022 Winter Olympic Game.