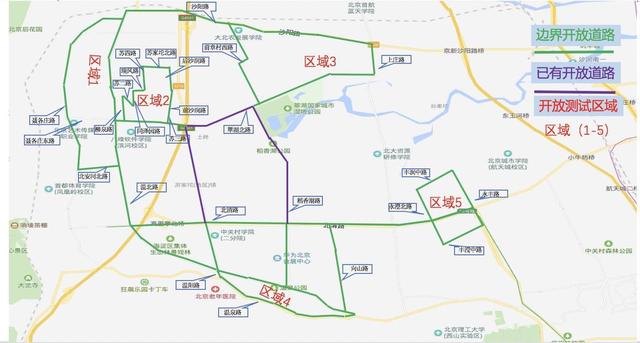 The pilot zone for testing self-driving vehicles in Beijing's Haidian district covers 244 kilometers and is expected to be open before the end of May. [Photo provided to chinadaily.com.cn]
Beijing is expected to open an area of 100 square kilometers for testing self-driving vehicles with passengers before the end of May, as part of preparations for the Beijing 2022 Olympic and Paralympic Winter Games, a senior district official said at a news conference in the city's Haidian district on Monday.
Lin Jianhua, deputy head of the district, said the pilot self-driving test zone extends over 244 kilometers and involves 52 roads ranging north to the Northwest Sixth Ring Road and south to the northern region of Zhongguancun Science City.
"To better back up the high-level autonomous vehicles to be put into operation during the Beijing 2022, we have planned to invest 350 million yuan ($49.2 million) soon for the construction and maintenance of the automated driving testing area," he said, adding that some other parts roads within the area would also be ready to open for testing before the end of this year.
In December, Beijing opened 111 roads for the testing of self-driving vehicles — a total of about 322.46 kilometers in the Economic-Technological Development Zone in the city's southeast suburb. The city had already designated 151 roads covering 503.68 kilometers for testing as of the end of 2019, ranking first in the country, officials said.
As of December, Beijing had issued road test licenses to 77 vehicles from 13 companies, and those traveled more than 1 million kilometers altogether, according to the city's municipal transport commission.
Yang Diange, a professor at Tsinghua University responsible for a project on the science and technology of the Winter Olympics, said earlier that self-driving minibuses will enter service during the Beijing 2022, and those vehicles were already in testing at Shougang Industrial Park, where the Beijing Organising Committee for the 2022 Olympic and Paralympic Winter Games is located.