The 2nd NOC Open Day Event of Beijing 2022 was held via video conference on 8 April. A total of 67 representatives from the IOC and 45 NOCs showed up in the webinar. Tokyo 2020 and Paris 2024 also joined the event as observers.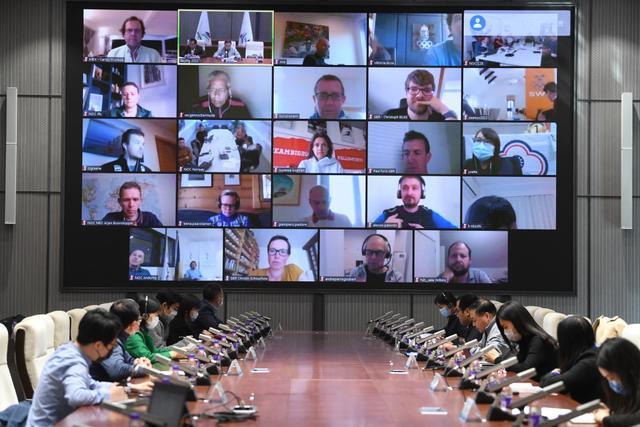 During the event, presenters from NCS, ACM, AND, FIN, TEC and RPP delivered progress reports and answered questions on Games preparations.
Affected by the COVID-19 pandemic across the globe, the NOC representatives couldn't come to China for the venue tour. Therefore, the VNI team introduced the latest construction progress of competition venues, non-competition venues, Beijing-Zhangjiakou High-speed Railway, and Beijing-Chongli Expressway through presentations, photos and videos, which made a profound impression on the representatives. A number of NOC representatives expressed appreciation for the efforts made by Beijing 2022 to construct the venues with high efficiency and in high quality while taking serious measures to fight against the COVID-19.
Beijing 2022 staff from 11 FAs including TRA, LOG, SEC, PRS, ACR, FNB, VIL, TKT, SPT, OFS and DOP, attended the meeting and interacted with the NOC representatives during Q&A session.
Since the COVID-19 outbreak, Beijing 2022 has been stepping up Games preparations while reinforcing epidemic prevention and control measures. The 2nd NOC Open Day is held in the form of video conference, to protect the safety and health of all participants and push ahead with Games preparations in an effective and orderly way. To ensure a smooth network, the Technology Department of Beijing 2022 specially deployed server nods for users in Europe and North America. During the meeting, NOC representatives made full use of the IM function of the video conference system to discuss service policies and put forward suggestions for our Games preparations. Beijing 2022 highly values the NOC suggestions, which will serve as useful references for the FAs to develop and perfect service policies.
The 2nd NOC Open Day Event is also highly commended by the IOC. Toshio Tsurunaga, Head of the IOC NOC Relations department, praise that Beijing 2022 has always been preparing for the Games with an open attitude. Hosting the Open Day Event via video conference has set a good example for other OCOGs in terms of delivering a high-tech-based Games. Observers from Tokyo 2020 and Paris 2024 attended the whole event and said that Beijing 2022's practice of hosting international events via video conference is worthy of learning and has provided valuable experiences for Games preparations under the current pandemic situation.