Hylink became Beijing 2022's Official Communications Agency Services Exclusive Supplier on 9 December 2019.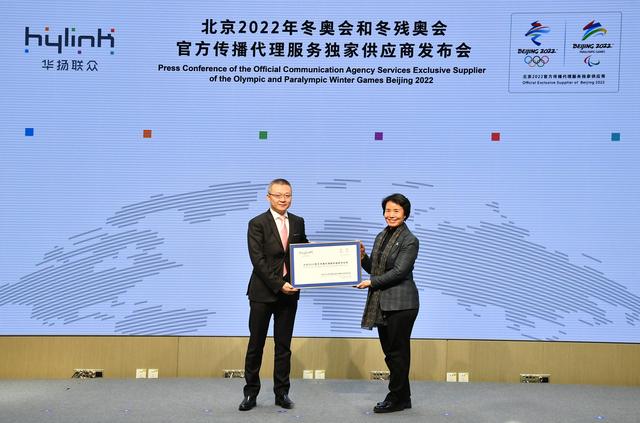 During the press conference held at Beijing 2022 Headquarters, Han Zirong, Full-time Vice President and Secretary General of Beijing 2022, handed over the Official Exclusive Supplier certificate to Su Tong, Founder and President of Hylink.
Chang Yu, Director General of Media and Communications Department and Executive Deputy Director General of Department of Opening and Closing Ceremony at Beijing 2022, welcomed the new signing and believed that Hylink's advantages in information technology, strategy and creative planning will bring inspirations to Beijing 2022, especially in the field of branding and communications.
Su Tong, Founder and President of Hylink, said that the company has been actively engaged in technological innovation and integrated marketing for years. Hylink will draw on its rich experiences in global marketing, information technology marketing, data analysis and IP marketing to promote Beijing 2022 Olympic and Paralympic Winter Games and Chinese winter sports culture worldwide.
As of 9 December, a total of 10 Beijing 2022 Official Partners have been signed, including Bank of China, Air China, Yili Group, ANTA, China Unicom, Shougang Group, CNPC, Sinopec Group, State Grid, and PICC Group. A total of seven Official Sponsors have been signed, including Tsingtao Beer, Yanjing Beer, Jinlongyu, Shunxin, Cultural Investment Holdings, Beijing Beiao Group and Heng Yuan Xiang. Four Official Exclusive Suppliers have also been signed, namely, EF Education First, iFLYTEK, China Post and Hylink.