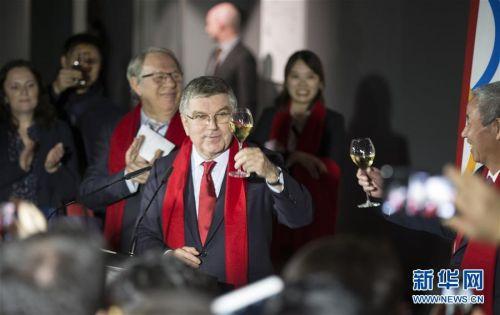 The Olympic Museum in Lausanne, Switzerland hosted the "Chinese Red · Light-on 2022" event on 4 February 2019 to celebrate the Chinese New Year (Spring Festival), which fell on 5 February this year.
Spring Festival couplets and Chinese knots decorated the museum's entrance, while red lanterns from Hebei province – where Beijing 2022's Zhangjiakou competition zone is located – were hung in its atrium. "Fu" characters and Chinese folk music added to the festiveness.
Thomas Bach, President of the International Olympic Committee (IOC), and Yu Zaiqing, IOC Vice President from China, jointly lit the red lanterns.
Bach sent New Year greetings to Chinese people around the world.
"Happy New Year to all the Chinese people! I wish them a very prosperous and happy Year of the Pig," Bach said. "(I hope) this year will give us the opportunity to celebrate the Olympic spirit even more together."
He encouraged Chinese winter sports athletes to "keep going strong" in the New Year. "It's three years to go (until Beijing 2022). You will have the opportunity to represent your country in Olympic (Winter) Games at home. This is a very special experience."
The event also inaugurated the "Chinese Red" exhibition of the Olympic-themed works of Chinese painter Cui Jingzhe in the museum's Art Lounge. It will be open until 24 February 2019.
Chinese painters He Jialin, Wei Xiaorong, Chen Ping and Wang Ping co-created a Chinese ink painting titled "Olympic Spring" during the event and presented it to the Olympic Museum as a gift.
Bach lauded the celebration of the Chinese New Year with art as affirming the Olympic ideal of bringing the world together with sport and culture.
Yu, who is also Vice President of Beijing 2022, said that more and more Chinese artists were hoping to explore Olympic themes and take part in the cultural activities surrounding the Olympic Winter Games. Beijing 2022 will make more efforts to encourage such artistic promotions of the Games and of Olympic values, Yu said.
The celebration in Lausanne was part of a series of "Chinese Red · Light-on 2022" events organised by the Culture and Ceremonies Department of Beijing 2022 and the Beijing Municipal Bureau of Culture and Tourism to celebrate the Spring Festival and promote the Olympic Winter Games and traditional Chinese culture.