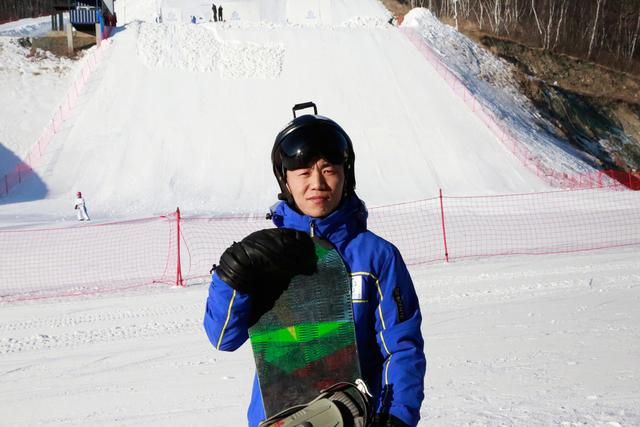 Lu Yongshuai, 32, works as a skiing instructor at Genting Resort Secret Garden, the site for the 2022 Winter Olympic freestyle skiing and snowboard competitions in Chongli town.[Photo provided for chinadaily.com.cn]
Holding a snowboard, Lu Yongshuai, dark and sharp-featured, said he had never traveled far from his hometown, Chongli.
Now a door has opened for the 32-year-old skiing instructor, whose hometown will host some of the skiing competitions during the 2022 Winter Olympic Games.
Chongli, a district of Zhangjiakou city some 220 kilometers northwest of Beijing, is now known for its successful co-bid for the 2022 Games with Beijing in July 2015.
For the past three-and-a-half years, Lu has seen the area change.
A snow rescuer-turned-skiing instructor, Lu said he used to make just 700 yuan ($103) per month during the early days of his career, which began in 2008. "Now everyone is busy working nearly all the hours of the day," he said.
He's talking about the more than 200 instructors of the Genting Resort Secret Garden skiing school, the site for the 2022 freestyle skiing and snowboard competitions. Nearly all are teaching learner skiers during the six compulsory working hours of each day, according to Lu.
The non-stop work still lags behind the growing number of skiers. "We have to recruit more and train more to qualify for the job, and we are learning how to teach group lessons as well, even though one-to-one lessons are best for starters. There are too many people." said Lu, who is now manager at the school.
Before the successful Olympic bid, Lu said, the 70-member staff was able to meet demand.
The growing demand has fattened Lu's wallet, and he said he is earning at least ten times what he used to take home.
Lu's parents, who used to be peasants, now work in neighboring skiing resorts as cleaners and have settled down in the town center.
Like Lu's family, the Chongli people have benefited from the upcoming Games. "No one here stays idle. We are all working for the Games," said Lu.
Lu has dreams for the future. He is now teaching himself English and is studying at an adult college. He said he wants to work better with his foreign instructor pals and serve more international guests.
"I want to go to Switzerland after 2022. I want to get further training there and probably a job opportunity," Lu said.