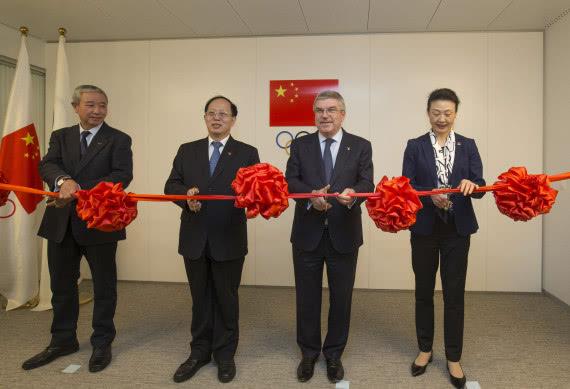 (Source: Olympic.org)
The Chinese Olympic Committee (COC) inaugurated its new offices in Lausanne, Switzerland on December 7, 2018, with the Olympic Winter Games Beijing 2022 just around the corner.
The ceremony saw IOC President Thomas Bach, IOC Vice-President Zaiqing Yu and Gou Zhongwen, the President of the COC and Executive President of Beijing 2022,officially open the offices along with Li Lingwei, IOC member in China and Vice-President of the COC.
President Bach said: "The preparations for the Olympic Winter Games will be even more smooth with the opening of these offices.You have created the opportunity to speak directly and daily with the IOC and the many International Federations based here."
Mr Gouadded: "The setting-up of this office will strengthen the close relationship with the IOC and lead to better cooperation with the locally based International Federations, helping Chinese sport to grow internationally."
Lausanne is already home to more than 40 International Federations and sports organisations, and today's move will also help the COCforge closer links.
Earlier in the day, the IOC President met with Mr Gou at the IOC headquarters, where they discussed the great progress in the preparations for the Olympic Winter Games Beijing 2022. Mr Gou assured the IOC President that construction was well ahead of schedule and that the2022 legacy is already in action today, with the offices of the Beijing 2022 Organising Committee being constructed from the old buildings of a disused steel plant, and a Chinese national training centre also operational in the grounds, supporting a number of winter sports athletes aiming for 2022.
The Winter Games will also showcase a great legacy from the Olympic Games Beijing 2008, with the majority of ice sports in Beijing taking place in converted venues that were used for the Summer Games.