Beijing 2022 has been doing an "amazing job" preparing for the Paralympic Winter Games and could set a new paradigm for future editions of the Games, said Andrew Parsons, President of the International Paralympic Committee (IPC).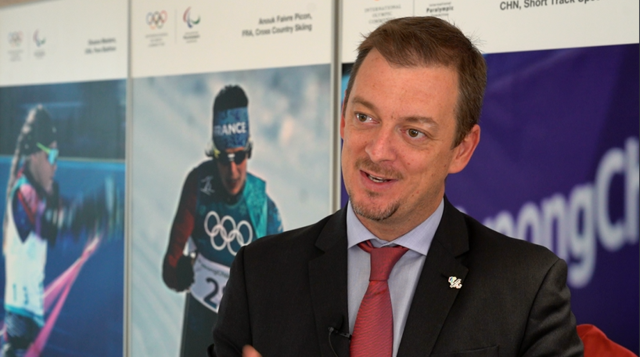 Andrew Parsons
Parsons visited Beijing 2022 headquarters for the Debrief of the Olympic and Paralympic Winter Games PyeongChang 2018 in early June.
The PyeongChang 2018 Paralympic Winter Games were "fantastic from many different angles" and set many new records, including the number of participating countries, the number of broadcasters, and the number of spectators, Parsons said.
A big takeaway for Beijing from the success of PyeongChang is to understand the opportunity the Paralympic Winter Games could bring and start promoting them as early as possible, which will benefit ticket sales and Games legacy, among other things, he said.
Praising Beijing 2022's work in overall planning, marketing, and venues, he said things were "in very good hands here".
"I think we have the potential here to set a new paradigm for how we organize Winter Paralympics. As you did in 2008 for the Summer Games, Beijing 2022 can shape the way we organize the Games from now on," Parsons said.
Parsons vowed to work with Beijing 2022 side by side to save cost and maximize efficiency in the spirit of the "New Norm," so as to deliver the Paralympic Winter Games in a "more rational" way that fits the long-term development strategy of the host city.
Beijing 2022's plan to use many existing venues from Beijing 2008 is "a very right thing to do" from both the financial point of view and the legacy point of view.
Having attended the Beijing 2008 Paralympic Games as the Secretary General of the Brazilian Paralympic Committee, Parsons was impressed not only by the "spectacular" venues but also by the smooth operations and the people, which together gave him "an amazing experience" and "good memories".
It would be a "unique opportunity" for Beijing to host the Paralympic Winter Games a mere 14 years after the Summer Games, which would once again "put the persons with an impairment and athletes with an impairment in the spotlight," he said.
Beijing 2008 was a catalyst that helped change the public's perception of people with an impairment and Beijing 2022 could reinforce the inclusion and respect for them, Parsons said.
"I think you will have a second catalyst. So I can only guess that after 2022, the Chinese society would be an even more inclusive society," he said, adding that the IPC would make joint efforts with Beijing 2022 to increase the appeal of Para winter sports to the Chinese public and the whole world.
"You will see sport that will blow your mind: you will see athletes going 100km/h downhill having an impairment, amazing action in the Para ice hockey venues, and tremendous skill and strategy in the wheelchair curling match," Parsons said.
"Come to a (Para) sport event, knowing that you will be transformed from within!"