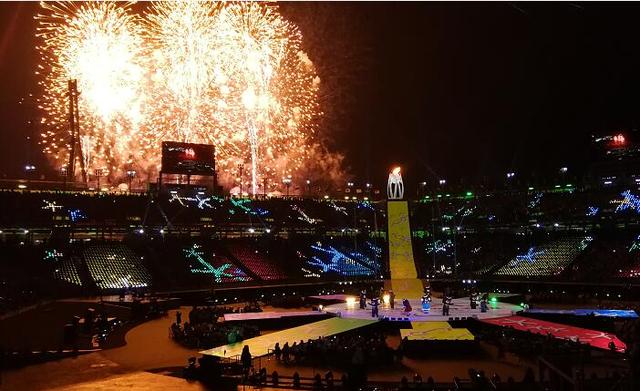 Photo by Dou Wei
PYEONGCHANG, March 18 - The Paralympic flame was extinguished this evening at the closing ceremony for the PyeongChang 2018 Paralympic Winter Games after ten days of intense winter sporting action.
Towards the end of the ceremony held at the Pyeongchang Olympic Stadium, the official handover to Beijing, host city of the next Paralympic Winter Games, began as Andrew Parsons, President of the International Paralympic Committee (IPC) passed the Paralympic flag to Chen Jining, Mayor of Beijing and Executive President of the Beijing Organizing Committee for the 2022 Olympic and Paralympic Winter Games, before the national flag of China was raised.
Beijing then took the opportunity to provide a preview of what to expect in 2022, with a handover performance themed around the magic of winter dreams and the indomitable spirit of Paralympic athletes.
The performance showcased the breathtaking talents of a number of performers from the China Disabled People's Performing Arts Troupe. Led by hearing-impaired actress Wang Yimei, the performance witnessed Wang, along with 16 co-performers, combine graceful, precision-timed dance sequences with high-tech video transitions to deliver a powerful message of hope aimed at inspiring those with disabilities around the world to never give up on their dreams.
Directed by award-winning Chinese film director Zhang Yimou, the performance concluded with a final message to the world, warmly inviting athletes and spectators to Beijing in 2022.
Beijing won the bid to host the 2022 Olympic and Paralympic Winter Games on July 31, 2015. With the flames of both competitions now extinguished in Pyeongchang, the world's attention turns to China as it prepares to deliver on its promise to host, in the words of the Chinese President Xi Jinping, a 'fantastic, extraordinary and excellent' Winter Games.