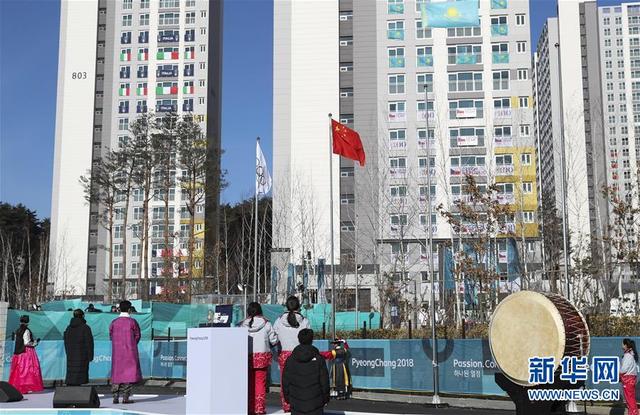 PYEONGCHANG, Feb. 7 (Xinhua) -- The Chinese delegation held its flag-raising ceremony at the Gangneung Olympic Village on Wednesday, two days before the PyeongChang Winter Olympics opens on Feb 9.
The delegation, headed by Chef de Mission Gou Zhongwen, sent approximately 60 people from figure skating, short track speed skating and speed skating to attend the ceremony.
"China sent a 181-member team, including 82 athletes, which is the biggest Chinese delegation since the Vancouver Games," said Gao Zhidan, deputy Chef de Mission.
As a mostly summer sports powerhouse, China did not win a Winter Olympic gold until the Salt Lake City Games in 2002.
Gao said Chinese athletes are coming to learn in PyeongChang, stopping short of disclosing China's medal expectations.
"After Beijing's successful bid to host the 2022 Winter Olympics, more and more athletes from summer sports have joined us in winter sports and they have been training very hard in snow sports," he added.
Short track speed skater Zhou Yang has been named China's flag-bearer in the PyeongChang Games opening ceremony. She won gold medals in the women's 1,500m speed skating event in Vancouver 2010 and Sochi 2014.
"It's an honor to become the flag-bearer at the PyeongChang Games. It's my third Olympic Games, and it's a surprise," she said.
"It also means responsibility. The experience as a flag-bearer will definitely boost my confidence in the competition."
China has won nine gold medals from short track speed skating out of the 12 golds the country has won in its entire winter Olympic history. China brought home two gold medals, both in the women's events, and three silvers, at the Sochi Games.
Short track skater Wu Dajing, two-time World Cup series winner in the 500m event this season, said that he was looking forward to the competition.
"I enjoyed the life in the village and I have met some of my major opponents. They are also old friends," Wu said.
"For me, the Winter Olympic competition is just the same as the World Cup series and the World Championships. The opponents are the same, and the competition format is also the same. So, just relax," he added.
After the flag-raising ceremony, the PyeongChang Olympics organizers arranged a performance featuring a mixture of Korean traditional dance and modern hip-hop.
The Chinese athletes will compete in 55 medal events in 12 disciplines across five different sports at the Olympics.