BEIJING, July 10, 2017 (Beijing 2022) – Beijing 2022 on Sunday welcomed the joining of 30 new faces, marking the end of the first worldwide talent recruitment since the organising committee's inauguration in December 2015.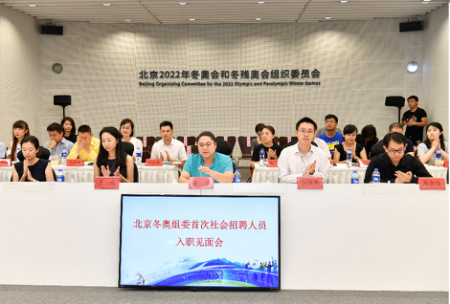 According to the Human Resources Department of Beijing 2022, the 30 newcomers are aged 35 on average. Ten of them have the experience of serving the Beijing 2008 Olympic Games, 80 percent hold a Master's Degree or above, and one-third can speak two or more foreign languages.
"Beijing 2022 is happy to welcome the newcomers coming out of the tense competitions in the last few months. They have professional background and experiences," said an official with the HR Department.
"The whole recruitment process also helped promote Beijing 2022's influence and people's enthusiasm in the 2022 Winter Games," he added.
Dong Rui said she was delighted to rejoin the Olympic Family.
"I once served the 2008 Olympic Games. Now I'm privileged to join Beijing 2022. I'm back again in the Olympic Family. I'll devote all my experiences and knowledge to help make the 2022 Winter Games a success."
"Beijing 2022 needs various talents. Half of our new colleagues lived or worked overseas. Their joining will help reinforce Beijing 2022's international exchange and cooperation," said Director of the International Relations Department Liu Yang.
In March this year, Beijing 2022, for the time since its official establishment on December 15, 2015, offered jobs covering function areas including general planning, venue planning, construction and management, marketing, media and finance, attracting worldwide applications from over 4,000 people.