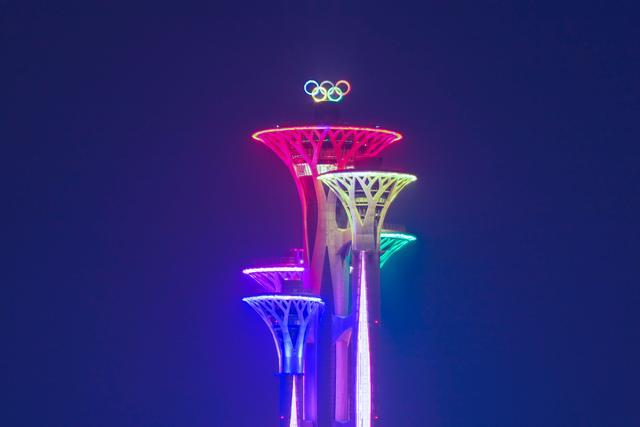 Olympic Tower(Photo: Wang Muqing)
BEIJING, June 12, 2016 (Beijing Daily) - On June 12, the Beijing Olympic Tower with huge rotating Olympic Rings atop was inaugurated by the International Olympic Committee and the Beijing municipal government.
Located in the Olympic Green, the tower is not only the newest landmark on Beijing's skyline for sightseeing, but will play multi-function roles such as cultural exhibition and environment monitoring.
The Beijing Olympic Tower is made up of five independent towers ranging from 186 metres to 246.8 metres high. Though separate, the five towers look connected, with Tower One the highest.
According to the designer, the Beijing Olympic Tower is a "Tree of Life" that grows from the soil and rises up to the sky. Its top looks like a flower in full blossom.
At the top of Tower One, there stand the 18-metre-high rotating Olympic Rings, with each of the five rings measuring five metres in diameter. The giant rotating device consists of three parts – the mechanical structure, the power system and the electric control system. It can withstand strong wind and high-intensity earthquakes. Tower One is equipped with accessible facilities for disabled visitors.
At night, the Olympic Tower furnished with 14,400 LED lights becomes a colourful light show, making itself a new scenic spot for more and more visitors.
Following the inauguration of the Beijing Olympic Tower, the Palace Museum, or the Forbidden City in China's Ming and Qing dynasties, will in the next five years exhibit gold ware, furniture, jade pieces, bronze ware and porcelain to showcase the "five elements" of the Chinese traditional culture, namely metal, wood, water, fire and earth.
Moreover, digital drama documentaries like "The Forbidden City: A Palace for the Son of Heaven" will be screened, allowing visitors to know about the royal families' life in ancient China.