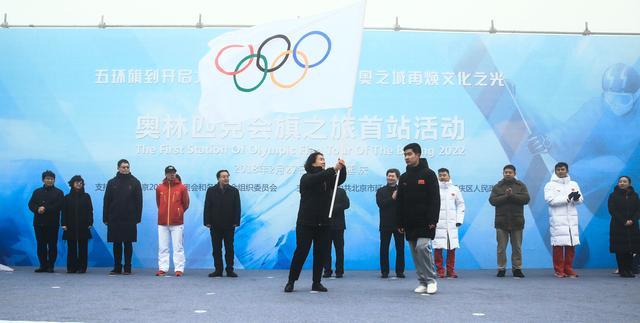 Beijing 2022's Yanqing and Zhangjiakou competition zones held celebrations to welcome the Olympic flag and to launch its second journey in China.
The Olympic flag arrived in Beijing on February 26, a day after it was handed over to Mayor of Beijing Chen Jining by International Olympic Committee President Thomas Bach at the closing ceremony of the Olympic Winter Games PyeongChang 2018.
On February 27, more than 500 people in Yanqing attended a welcome ceremony at the foot of Badaling, the most visited section of the Great Wall.
The Olympic flag was passed to a Yanqing student from Han Zirong, Secretary General of the Beijing Organizing Committee for the 2022 Olympic and Paralympic Winter Games.
Jia Zongyang, who won silver in Freestyle Skiing Aerials at PyeongChang 2018, was among those who attended the event in Yanqing. Jia said he was thrilled to see the Olympic flag again. "I will work hard in training and try my best at the Beijing Games," he said.
Yanqing is suburban district of Beijing and about 70 kilometers northwest of the city center. It will host Alpine Skiing, Bobsleigh, Skeleton, and Luge in 2022.
On February 27, the Olympic flag traveled to the Zhangjiakou competition zone, to the northwest of Beijing and in the neighboring province of Hebei. A big crowd turned out to welcome the flag right outside Dajingmen, Zhangjiakou's old city gate that is also part of the Great Wall.
Han Zirong, Secretary General of Beijing 2022, handed the flag to Mayor of Zhangjiakou Wu Weidong, who then passed it to a local student.
Zhangjiakou has become a top skiing destination for residents of Beijing and other Chinese cities in recent years. It will host most of Beijing 2022's snow events (excluding Alpine Skiing and Snowboard Big Air).