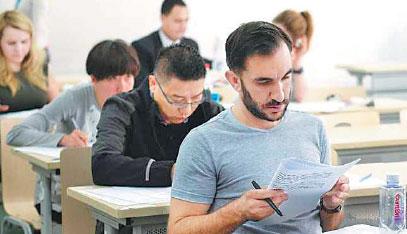 The 2022 Winter Olympic organizing committee organizes a written test on April 15 to recruit professionals from all over the world to serve at the games. Provided To China Daily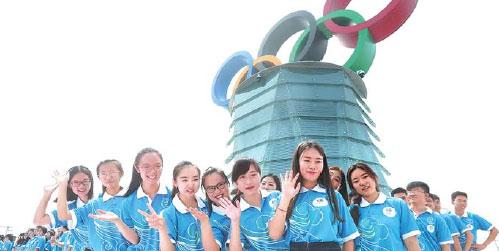 A total of 200 college students serve as volunteers to send best wishes for the coming Winter Games at the Olympic Tower in Beijing. Xinhua
Andrew Jimmy, a United States citizen from Los Angeles, finished a writing test for a job recruitment organized by the 2022 Olympic Winter Games Organizing Committee.
Graduated with a master's degree in Chinese policies from Renmin University of China in 2015, he has been in China for nearly five years and is now working in Fujian province.
"I think the test is really interesting, especially the part that involved international relationships and multi-lateral cooperation," Jimmy said.
He applied for the position of Venue Management and he said he hopes his Chinese language can meet the requirement of the Olympic organizing committee.
"The 2022 Winter Olympics provides a good opportunity for people from all over the world to present the best part of themselves and to have fun together," Jimmy said. In the future, he wants to be a representative in the field of China-US relations.
To help ensure an outstanding Winter Olympics in 2022, the Beijing organizing committee organized this written test on April 15 to recruit professionals all over the world to serve the Games.
The committee screened candidates' resumes one by one, seeking talented professionals with a proven track record of organizing major international events and excellent foreign language abilities.
After that, 760 candidates were chosen to take the test for 21 job categories involving planning and construction, venue management, marketing and finance.
Those Chinese candidates are from provinces, municipalities and autonomous regions on the Chinese mainland, as well as Hong Kong and Taiwan.
Foreigners from Russia, the US, Brazil and other countries also took part in the test. The most popular positions have attracted more than 100 candidates from home and abroad.
The written test was designed to evaluate applicants' psychological qualities, basic competence, language proficiency and problem-solving abilities in their respective fields.
The Beijing organizing committee will also establish a talent pool using another test for those who are not considered a good match for the current positions yet remain interested in other jobs for the Beijing 2022 Olympics.
Walking out of the test rooms, some candidates said that the written test was comprehensive and informative, with professional requirements and strong demand for foreign language.
Others thought taking the exam was just like participating in the Winter Olympics' organizational work, and were excited by the opportunity to serve at the event for our country.
"The lack of athletic and management expertise in winter sports in our country should be addressed by training local staff and borrowing experience from all possible circles, as highlighted by the President Xi Jinping in several of his remarks," Yang Yang, an International Olympic Committee member in China, was quoted as saying by Xinhua News Agency.
Beijing organizing committee has now recruited nearly 200 staff members, a lot of them having experienced preparations for the 2008 Beijing Olympics or the bid for the 2022 Winter Olympics.
But it still faces a shortage of event managers, winter sports technicians, technical officials and volunteers, said Tong Lixin, director of the sports department of the organizing committee, according to Xinhua News Agency.
As the work of organizing the Winter Olympics is very professional, and the development of winter sports in China is still lacking, professional talent in venue design, competition organization and technical support is direly needed, according to the organizing committee.
To address the talent shortage, the organizing committee developed a plan for introducing and cultivating more trained professionals.
To introduce talent, the organizing committee has smoothed the way for recruiting staff and initiated plenty of cooperation with the International Olympic Committee, International Paralympic Committee and international federations whose sport is on the Olympic Winter Games program, as well as other international organizations.
The organizing committee also formulated a working model to introduce foreign experts, which has helped to employ 13 high-end professionals.
In addition to recruiting more international experts, the committee is also seeking volunteers and interns.
According to estimates, 5,000 to 6,000 professional volunteers will be required to do the job of making and pressing snow and preparing ice for the competition.
The organizing committee has developed a volunteer management approach and general policy for interns, making progress by working with professional sports institutes including Beijing Sport University, Capital University of Physical Education and Sports and Harbin Sports University.
This year will see the recruitment of volunteers and interns and special training projects for them.
In addition, in the course of recruitment, the organizing committee pledged to employ more Chinese people and give them all-round training, especially in practical work.
Over the last winter seasons, the Beijing organizing committee has sent 29 working teams of 50 people as Shadowing Program to countries and regions such as Pyeongchang and Switzerland to obtain advanced managing expertise from local staff and absorb their competition organizational experience.
At the same time, 81 people have been sent overseas as observers to gain insights from major events.
The effort was part of the International Olympic Committee's knowledge-transfer Observer Program, which invites future Olympic organizers to observe first-hand the hosting practices for current and upcoming events.