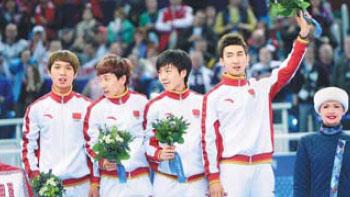 China's short-track speed skaters, who won two silvers and one bronze at the Sochi Winter Olympic Games, will show their skills at the coming competition.
Chinese athletes are gearing themselves up for the 2018 Winter Olympics in Pyeongchang, Republic of Korea, and the 2022 Winter Olympics in China (Beijing) through intensive training and strong will.
Some of them are champions of the just-concluded World Figure Skating Championships 2017, which ran from March 29 to April 2 in Helsinki, Finland.
Although they won the medals not long ago, for them, the most important task at present is preparing for the approaching Winter Olympics.
The Chinese duo of Sui Wenjing and Han Cong took gold in the pairs competition at the championships in Finland.
But it seems that they do not have much time to enjoy the spoils of their victory.
"Next year will see the 2018 Winter Olympics, for which we will make a 120 percent effort, striving to make a little bit of progress day by day," said Sui Wenjing, the female athlete in the duo.
"For us, the championship has already become the past, we are moving on for the next season and the coming Winter Olympics," said Han Cong, the male athlete in the duo.
Once the championship was finished, the two went to Canada to prepare for next year's Winter Olympics.
The two have been working together for 10 years. In the past, they have experienced many hardships and missed several rounds of Olympic medals.
"I couldn't take the long-lasting pain. Only with painkillers could I sleep at night," Sui said.
"But to return to the ice rink, all the bitterness has become worthwhile," Sui said.
Their new performance, Sui said, will be "unprecedented" and more challenging, and she believes it will be among their best work in recent years.
Jin Boyang, a 20-year-old man born in Heilongjiang province, is a frequent winner of international figure skating competitions.
His smooth gliding, beautiful rotation and wonderful jumps won him the men's singles bronze medal during the World Figure Skating Championships 2017 in Helsinki.
Faced with strong opponents from all over the world, Jing showed a positive attitude.
"I didn't give myself too much pressure but just wanted to stay relaxed and perform my best," Jin said.
Through the game, Jin was able to measure the gap between himself and the world's top athletes, and now works hard to close it.
To prepare for the 2018 Winter Olympics in Pyeongchang, he adjusted his fitness, footwork and coordination. Due to a lack of systematic training, Jin feels he needs to improve his body control and stability, and polish some small details in his performances.
Jin said he can now complete four quads and five quads during training, but he didn't perform them very well during the real competition.
So his goal for the Winter Olympics is to complete the two sets of performances with zero errors to win medals.
The skiing industry all over China has recently experienced a strong surge in participation, as part of the central government's plans to boost participation in winter sports across the country.
Recent statistics released by the government show that the industrial scale of winter sports is expected to reach 600 billion yuan ($87 billion) by 2020, and is set to increase to 1 trillion yuan by 2025, according to Xinhua News Agency.
"We have reached what I would call the 'golden twenties' of the winter sports industry (in China)," said Lin Xianpeng, vice-department head of the Beijing Sports University Marketing program.
Given the rapid growth rate, there should be no less than 650 skating rinks and 800 skiing venues in the country by 2022. 2017 has seen an 18 percent increase year-on-year in the number of skiers at the 500 skiing sites nationwide, according to Xinhua News Agency.
Yi Jiandong, an expert from Peking University, said it is necessary to promote the sustainable development of ice and snow sports culture.
Only if there is sports culture deep-rooted in people's minds with social value can the ice and snow sports' popularity last. A popular sport without supporting culture is superficial and will soon die, Yi said.